SUBSCRIBE FOR EXCLUSIVE UPDATES
WE NEED TO STOP THE LOGGING ABOVE SOUTH SHORE ON FRAILEY MOUNTAIN!!
WHY: We all bought property at Lake Cavanaugh because we loved the pristine surrounding area, the clean lake and the refuge away from bustling, noisy cities. The proposed logging threatens both our safety and water quality. We fear that this timber cut will trigger damaging, potentially deadly, landslides. The potential for water degradation from mudslide debris is alarming, particularly for those who depend on getting their water from the lake.
WHO: The Lake Cavanaugh Trust was originally formed in 1994 to fight proposed Weyerhaeuser logging on Frailey Mountain. We won that case. Nielsen Brothers, a logging company, bought this same property from Weyerhaeuser in 2018. They have twice tried to get permission to log, but the Lake Cavanaugh Trust has succeeded in stopping them. Our Trust attorney, geologist and environmental experts are currently fighting against Nielsen's latest appeal to log. We have a scheduled court date in April 2020, to require a State Environmental Impact Act (SEPA), see attached.
Bob McCullough, a longtime lake resident, has recently filed lawsuits seeking to reverse the Skagit County permit granted Nielsen Brothers to use residential zoned property to be used for commercial purposes, see attached for more details. The Trust and Bob McCullough have joined forces, creating a two-prong effort to stop or severely limit Nielsen Brothers attempt to log Frailey Mountain.
WHERE: The proposed area to be logged is above South Shore, approximately a quarter of a mile from the west end of the lake all the way to the fire station, see attached map.
WHAT do we need from you? Your generous contributions to win these legal battles. Lawyers, geologists, wetland biologists, and other experts cost a significant amount of money. We need your support to continue the fight to save our lake!
THANK YOU: Cathy Katte, President
Tracie Douglas, Secretary
Kimberle Brown, Treasurer
Bob McCullough, Director
PLEASE MAKE YOUR CHECK OUT TO: LAKE CAVANAUGH TRUST
Mail to: Kimberle Brown, Treasurer
16004 73rd Place W
Edmonds, WA 98026
In 1994 the Lake Cavanaugh Trust was formed by concerned lake property owners to fight the Weyerhaeuser Company plan to log its Frailey Mountain property.
The Trust was set up as a Washington nonprofit corporation. Its purpose is the preservation and management of the natural environment in the Lake Cavanaugh water shed and surrounding lands.
Weyerhaeuser's intent was to clear cut the entire area, 5 parcels. Residents banned together and with the Trust's direction launched campaigns against logging, hired an environmental law firm and went to court to stop the logging. It was felt that Frailey Mountain was too steep and the possibility of slides existed. Many hours of volunteer work and costly legal fees succeeded in stopping Weyerhaeuser. Ironically, it was stopped due to the access road being denied. No access, no timber cutting.
The Trust had no other issues after the Weyerhaeuser court case but continued its non-profit status until 2018 when it became inactive. The Trust was reinstated on November 9, 2018 to lead the fight against Nielsen Brothers Logging's applications to log Frailey Mountain.
The land that Weyerhaeuser owned was bought by Nielsen Brothers Logging on June 6, 2018 for $655,000. The parcels total approximately 296 acres. The Large Block: P67021, P66776, P18456, P18450 and the Small Block: P18488 (view map on sales brochure).
Lake Cavanaugh Trust from 2018 to December 2019
September 26, 2018 Nielsen Brothers Logging filed an FPA 281660 with DNR to log 18.4 acres in the following parcel: P67021, P66954, P18456, and P66766. Citizens have 30 days to send comments to DNR questioning/objecting to the application. The Trust and property owners wrote letters and emails to both Skagit County and DNR objecting on the grounds that the area to be logged was too steep, prone to slides already and fearing more and greater slides as a result of the timber cutting. Another concern was water degradation as slide debris would contaminate the lake water ruining habit and harming those that draw their drinking water from the lake.
At this same time Nielsen Brothers applied to Skagit County to open an unopened County right-of-way. This right of way would be access to Parcel 67021, the far west parcel in the proposed cut.
Skagit County approved the access to the right-of-way with four conditions that must be met before construction can begin on the right-of-way on January 7, 2019. This right-of-way is owned by Skagit County and is between 33016 South Shore Drive and P66971 east of the right-of-way. Both are back lots with P66971 with no address on the roadway. See the letter from Skagit County Public Works for more details.
On October 19, 2018 Nielsen Brothers Logging filed FPA 2816688 to log an additional 6.5 acres on P66776 and P18456. Different areas but within the same Parcels that were slated on FP 281660.
Total timber cut within the two FPAs equal 24.9 acres.
FPA 2816688 was withdrawn on November 16, 2018 to resubmit with changes.
The Trust filed an appeal with DNR pointing out non adherence with DNR regulations and concern again with steep slopes, slides, water degradation, and stream crossings.
FPA 2816660 was approved on October 11, 2018 and then withdrawn on November 21, 2018.
On June 12, 2019 Nielsen Brothers Logging filed FPA 2817007, another more detailed application with DNR with a harvest of 24.7 acres. The Trust challenged the application and it was withdrawn on July 11, 2019.
And now to the current FPA 2817112,which was filed by Nielsen Brothers Logging on July 30, 2019, same harvest area of 24.7 acres. This is the most detailed of the preceding FPAs. Icicle Creek Engineers redid their geological report, an updated ford crossing over streams M and L was presented along with and larger culverts for most streams. The FPA was approved by DNR and is now in the appeals process with the Pollution Control Hearing Board. Court date is April 21-23, 2020.
To view any of these FPA's go to : https://fortress.wa.gov/dnr/protection/fparssearch/
And insert the number of the FPA
Cavanaugh proposed harvest units (West, Middle, and East) on Frailey Mountain
Slope stability map of Frailey Mountain with structures shown on back and lakeside lots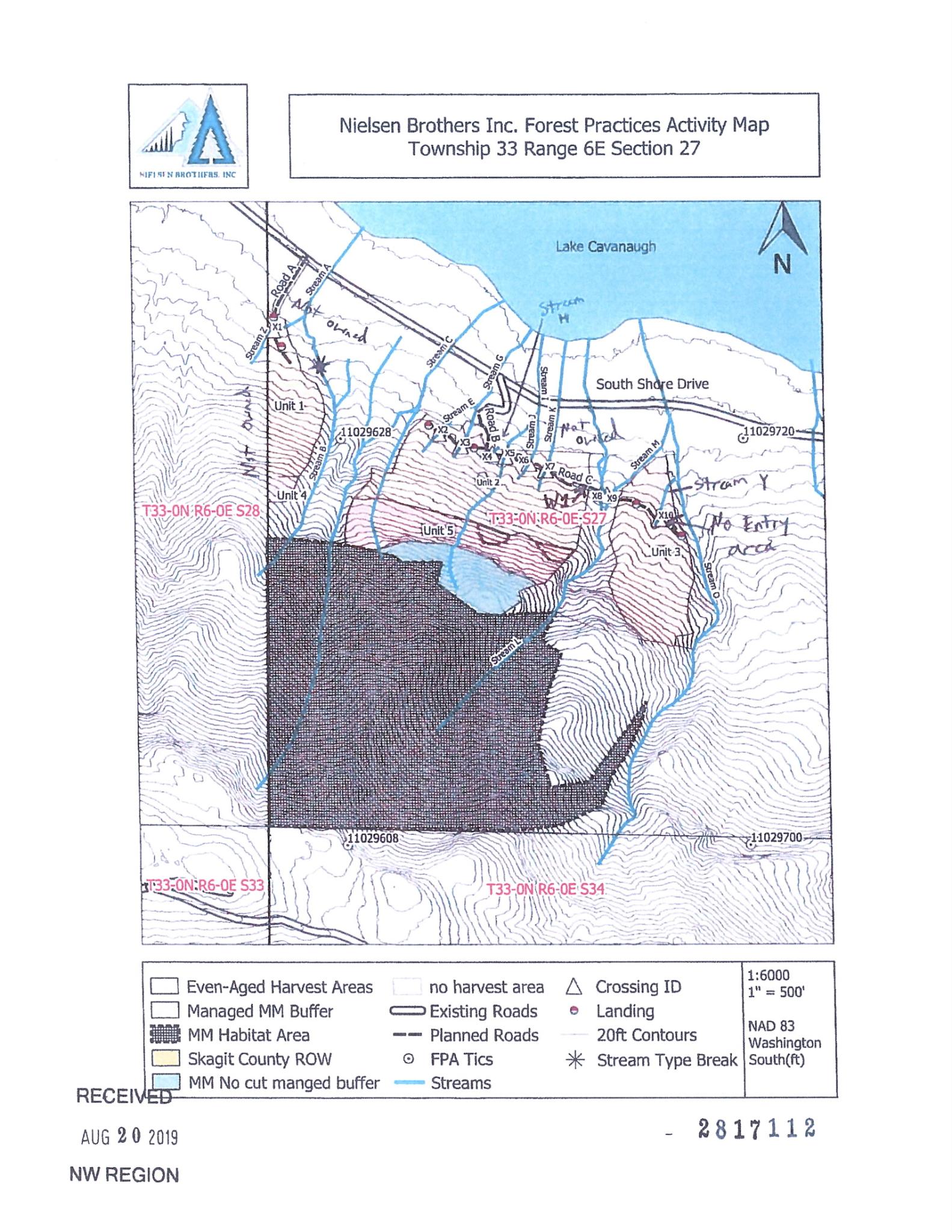 Streams and proposed roads in timber units on Frailey Mountain